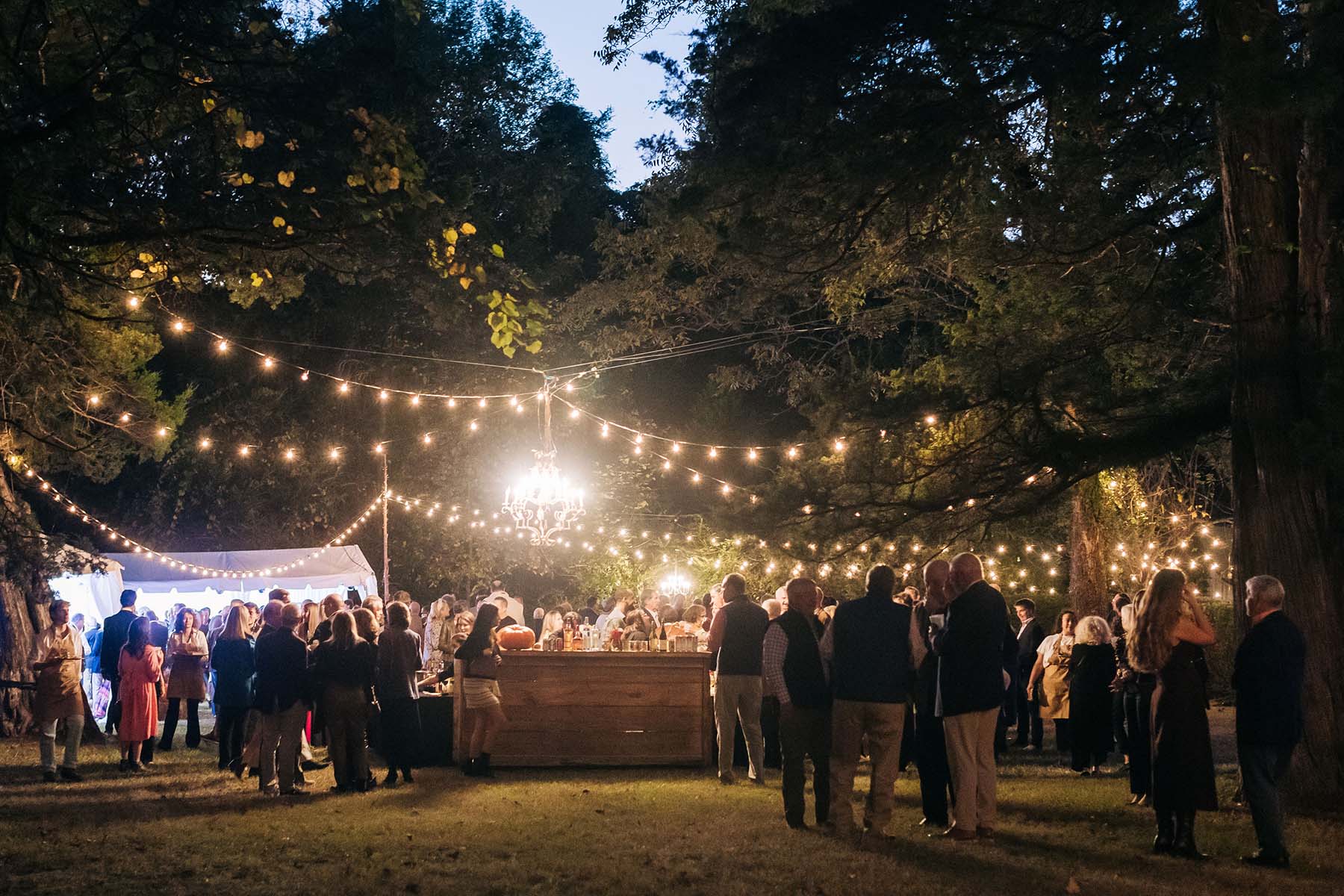 Harvest Supper 2023
Created over ten years ago by the Friends of the UM Museum, Harvest Supper has raised over $1.5 million to support not only educational programs, acquisitions, and advocacy initiatives for the museum, but also for the historic houses Rowan Oak and The Walton-Young House.
This casual evening will be held under the stars on Thursday, October 26. Lights will be strewn across the meadows of Rowan Oak where local music, local food, and an auction of paintings, sculpture and photographs by well-known regional artists round out the evening. This year's event highlights food provided by A&N Catering and Tallahatchie Gourmet, signature cocktails created by Taariq David, music by the University of Mississippi Steel Band and The Soul Tones, and an on-site painting by Wyatt Waters.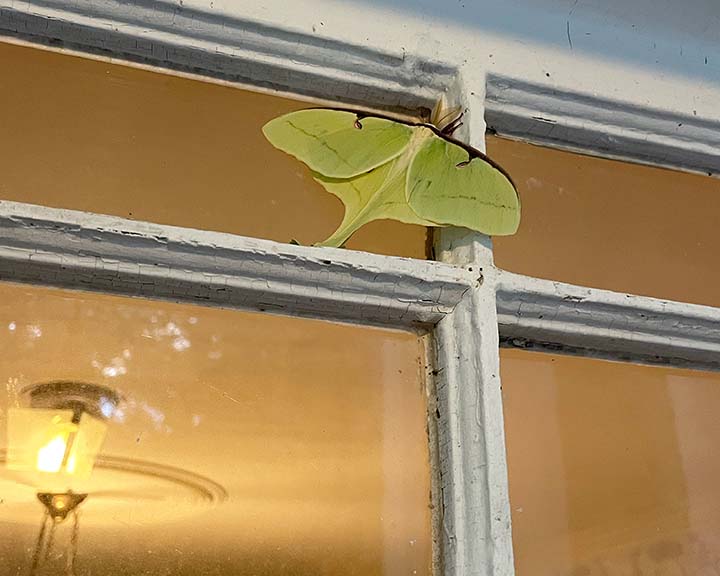 Summer at Rowan Oak ended with a visit from Luna Moth, who comes to the front porch every year. We saw over 900 visitors in July and look forward to everyone's visit in August. 
Rowan Oak will go back to regular operating hours August 1st:
--Tuesday-Saturday 10am-4pm* and Sunday 1pm-4pm*.

Start off your fall semester by stopping by Rowan Oak! Admission is FREE for UM students, faculty, and staff. 
Continued Artistry

AUGUST 1, 2023 – JUNE 1, 2024

Crafts of the Mississippi Band of Choctaw Indians, Navajo Nation, and the Pueblo of Zuni.
Image above: Jocla Necklace (Navajo)
Recent Acquisitions, 2012–Present
MAY 9, 2023 – MARCH 23, 2024 
From its inception, the University Museum has thrived due to the generosity of its many supporters. With an expansive range of historical, artistic, and cultural objects the Museum is able to offer a regular rotation of diverse and compelling exhibits. This exhibition celebrates recent donations and purchases to the Museum over the past decade featuring work by acclaimed artists such as Dean Mitchell, Purvis Young, Hale Aspacio Woodruff, Maude Schuyler Clay, Katja Oxman, Georgia Speller, William Dunlap and more.

Image above: The Diver, by Jere Allen.
Friends of Theora
JANUARY 17–DECEMBER 9, 2023
Most people know Theora Hamblett for her paintings of her childhood memories, dreams, visions, and her faith; however, this exhibit examines the external influence of other artists that inspired Hamblett as an emerging artist, student, and observational painter searching for her own artistic voice. Many of the works on view were from her personal collection, collected through art exchanges with artists that she befriended. 
Image above: Jacob's Ladder, ca. 1951–1955, by Stuart Purser.
Blurred Lines
OCTOBER 25, 2022–AUGUST 26, 2023
This exhibit features works from the W. Forrest and Joan Stevens Collection, including Andy Warhol, Pablo Picasso, and Alexander Calder, that disrupted the status quo in art, from modernism into the postmodernism movement. 
Image above: Construction, 1972, by Alexander Calder.
REMINDERS AND LOOKING AHEAD
COVID-19 STATUS UPDATE


Museum Galleries & Exhibitions are Open to All
The University of Mississippi Museum and Historic Houses follows the guidelines set by the University.
The Chancellor announced this update to campus protocols:
"Effective March 2, face coverings are required only on transportation networks and in healthcare settings such as University Health Services and University Counseling Center, regardless of vaccination status.
Face coverings are optional in all other indoor spaces, including classrooms, laboratories, studios, residence halls, libraries, dining facilities, the Student Union, Campus Recreation facilities, retail spaces, offices, conference rooms or extracurricular activities held in indoor on-campus spaces.
Faculty and staff may continue to require face coverings for visits to their private offices."
To stay up-to-date with the University's ongoing response to the coronavirus pandemic, please visit coronavirus.olemiss.edu