Hello dear Hartford Stage supporters:
I have to start with an enormous thank you to all 130 of you who joined us this past week for our premiere Scene and Heard: LIVE! series. Your presence and support meant so much to me and to the rest of the Hartford Stage family. I truly appreciate your patience while we stumbled through a few readings, took a few questions about the state of our theatre, and announced with great delight, four of six MainStage productions that will comprise our 2020/2021 season.
These are such difficult days for all of us, with grief a surprising new companion to our hours. We lost a great colleague to Covid-19 this week in the amazing actor Mark Blum, who met his wife actor Janet Zarish (who was in Emily Mann's production of A Doll's House at Hartford Stage in 1986) while both working with me 20 years ago. How do we weather these losses? At some moments I simply let the grief have its way with me...Once that moment has passed, I know it helps me to listen to the voices and stories of others.
Hartford Stage staff have been amazing in listening and working to help our community and keep our theatre alive. A shout out to our Technical Director, Aaron Bleck, who gathered gloves, glasses, N95 masks, and other safety equipment from our shops and the shops at The Hartt School at the University of Hartford to share with our local medical professionals.
It's challenging to be living in uncertainty, and not knowing the future perhaps best to trust in our past as an indication of all the good that lies ahead. For next week's Scene and Heard: LIVE!, I will host a discussion with former Hartford Stage Artistic Directors Mark Lamos, Michael Wilson and Darko Tresnjak. I am excited to speak with them and hear about some of their favorite Hartford Stage memories. I hope you will join with YOUR Hartford Stage stories as well. Who can resist hearing more details about Pearls For Pigs? (I promise not to spend too long on that show).
Once again, thanks for your continued support of Hartford Stage during this trying period. It should come as no surprise that after canceling all performances through April 30 and our annual fundraising gala, we estimate lost revenue in excess of $1 million. But, with your help, Hartford Stage will be able to meet this challenge and continue its mission to produce theatre that inspires and engages.
If you can give a gift, of any amount, your gift will be doubled with our ongoing $50,000 match by making a donation at www.hartfordstage.org today!
I am also unveiling "Melia's Picks" later this week—a selection of sites and online performances for all of us to get our theatre fix. But as a sneak peak of what you can expect, here is my first selection: National Theatre at Home, streaming on YouTube (including Sally Cookson's stage adaptation of Charlotte Brontë's Jane Eyre in a few weeks. It's not our wonderful production, but for those who may have missed ours, I hope you will enjoy it.)
We're here, we're not going away, and we can't wait to have you back at the theatre. Better that we think of this as simply a long intermission. We will blink the house lights when it's time to return.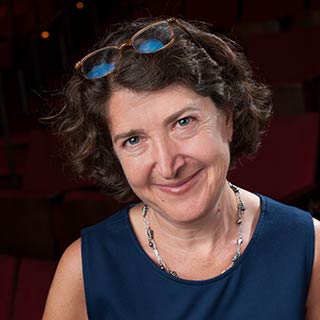 Warmly, and gratefully,


Melia
PS: Join us Wednesday, April 1st for Scene and Heard, Live!, a virtual happy hour via Zoom with Melia at 5:00 PM EST. A round table discussion with former Hartford Stage Artistic Directors Mark Lamos, Michael Wilson and Darko Tresnjak! Visit www.hartfordstage.org for login information and to RSVP. See you then.