November 2022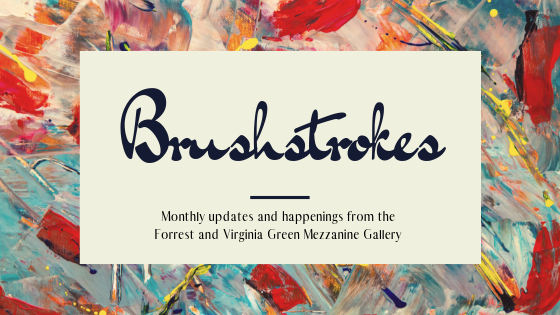 Paulette Martsolf
presents
UNSTOPPABLE!
From Fashion to Fine Art

November 2- 27, 2022
Greetings from the Eisemann Center!

Thank you for subscribing to our monthly Visual Arts Newsletter, Brushstrokes. We hope you find it informative and inviting. The Forrest and Virginia Green Mezzanine Gallery is free to view and open daily to the public. Located in the heart of Galatyn Parkway, and steps from the DART rail, our monthly art installation is not something you want to miss. For more information on Visual/Public Art at the Eisemann Center, exhibit schedule, and all information for those wanting to exhibit their work, click here.
This month, we are showcasing the ethereal work of Canadian born, award-winning artist, fashion designer, and entrepreneur, Paulette Martsolf. After earning a degree in Fashion Design at Sheridan College in Ontario, Martsolf studied in Paris on a master's degree scholarship. Locals may know her by Allie-Coosh, the name of her successful clothing and jewelry line homed here in the Dallas area for over 30 years. 
Her background in fashion design inspired her experimentation with different mediums when she started creating visual art back in 2020. The art in this collection displays unique patterns and textures constructed from painted and cut paper that is woven and sewn together. She uses this method to create abstract imagery "inspired by landscapes, the environment and world events", the colors of which hint at the meaning of each piece. 
"For decades in my highly visible fashion career, I used and relied on structure and form in my designs to create garments that would enhance the curves of a body and express my artistic vision. Now I am using structure and form in my paper medium, weaving and cutting to create a visual flow in my artwork. My creations begin with an idea and that idea evolves as the energy in the work grows and the beauty in the work reveals itself." -Martsolf
A reception will be held on November 10th from 6:30-9:00 pm in the Green Mezzanine Gallery at the Charles W. Eisemann Center for Performing Arts, 2351 Performance Dr. in Richardson, Texas 75082. Please RSVP to paulettem@allie-coosh.com
Please forward and share this newsletter to anyone interested in the arts.
For questions or subscription requests, email Alexis.Moorer@cor.gov
Artists wanting to be considered for the exhibit can find details at the Eisemann Center website

www.eisemanncenter.com
Hours: 10 am-6 pm Monday through Friday and during all public events
 2351 Performance Dr. • Richardson, TX 75082