Dear Friends of Hartford Stage,
I miss you.
By now you have heard the painful news that we have canceled our onstage productions for next season. As we sit with that loss, we also look forward to all we will be making and doing this year. This challenging time has provided us an opportunity to rethink how and why we make theatre. Though it will never be the same as sitting together on Church Street, I am excited by the possibilities and connections in shifting our focus online, and for the new neighbors that this platform will allow us to reach.
When I first arrived at Hartford Stage just one year ago, among my favorite discoveries was the strength and breadth of the theatre's education programs. I have been thrilled to witness amazing teaching artists and students in the classroom, on the stage, and now on our screens. What better way to think about why we make theatre than to see how it impacts the next generation?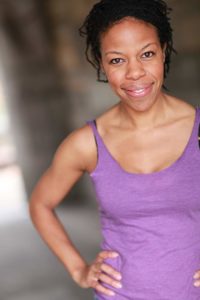 Nilaja Sun
Join me this Wednesday at 5PM for the return of Scene and Heard: LIVE! We'll be in conversation with the student artists who participated in Project: Transform, one of our summer Education programs. These 12 teens gathered virtually every day for six weeks with teaching artist Nilaja Sun (who you will remember from her remarkable creation and performance, Pike St.), to create a piece of theatre about the change they wish to see in the world. These students from across Greater Hartford worked with Nilaja to create a multi-media sharing that encompasses writing, visual artistry, music, song, dance and theatre craft.
I have been able to stop by rehearsals – and have been so inspired by the artistry, perspective, and energy from this group. It brings to my mind a Japanese proverb I read long ago: "don't study an art – practice it."
I hope you'll join me once again to share in that practice with our new monthly format of Scene and Heard: LIVE!. It is bound to be an engaging conversation with these young artists, and by joining us you can share our passion and hopes for the future of Hartford Stage.  
The student artists of Project: Transform
PS: The official sharing of Project:Transform is the following evening on Thursday, August 6 at 6PM. Don't miss both of these beautiful opportunities for engagement next week.