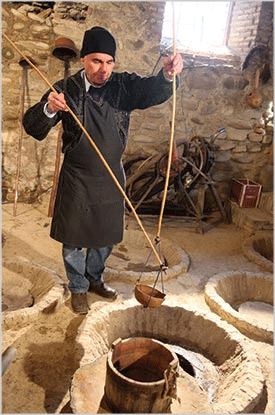 The ancient technique of making wine
in buried qvevri (egg-shaped
earthenware vessels) dates to the
6th century B.C., Georgia (UNESCO)

Dear ,

Join us for this unique 2-day event, as experts in the culture, history, science, and production of wine explore the link between the earliest of wine-making traditions and the wines we enjoy today.
Explore wines with origins dating back to ancient civilizations of the Eastern Mediterranean and Caucasus and the important role wine played in those societies.
Begin your wine adventure on Friday evening as Ambassador David Bakradze welcomes you to the opening reception at the elegant Embassy of Georgia. Enjoy traditional Georgian small bites and wine pairings from the Caucasus and Eastern Mediterranean, as well as a selection of Georgian wines exclusive to this event.
On Saturday, the seminar will include a panel discussion as well as an International Winemakers lunch with wine pairings. Later that afternoon, you'll experience the Grand Tasting, with over 20 wineries present.
The Origins of Wine Civilization: From Ancient Vines to Modern Expressions
2-Day Special Event
Fri., Jun. 9 at 6:30 (Opening Reception)
Sat., Jun. 10 at 10:00 AM (Seminar); 4:30 PM (Grand Tasting)

Member*: $275 l Non-Member: $325

*Not a member? Become a Smithsonian Associates supporter today and start taking advantage of member rates immediately! Learn more>>
Your Login Name is:

• • •
You May Also Enjoy:
Exploring Balkan Food:
A Private Dinner at Ambar Restaurant
Evening Program with Dinner

Sun., May 7 at 4:30 PM
Modern food of the Balkan Peninsula reflects influences from the Ottoman and Austro-Hungarian empires, other Slavic nations, and the Mediterranean. Explore this intriguing blend as you sample the food of Serbia during a private dinner—featuring a guest from the country's embassy—at the new Ambar restaurant in Clarendon.
Buy tickets>>
Drinking the Past: Re-creating Ancient Brews
Evening Program with Book Signing and Tasting
Thurs., Jun. 8 at 6:45 PM
This evening, archaeologist Patrick E. McGovern leads a sensory journey back in time as he recalls adventures in China, Turkey, Egypt, Italy, Peru and Mexico, and other locales, in search of "liquid time capsules." Buy tickets>>
How to Make the Mummies Talk


Evening Program
Tues., Jun. 13 at 6:45 PM
More than 2,000 years after Egypt's Ptolemaic Dynasty, new imaging technology is beginning to unlock texts hidden within the layers of papyrus mâché masks used in elaborate mummification rituals common from 300-30 B.C. Learn about the efforts by an international team of researchers to evaluate new methods to help reveal stories from the past. Buy tickets>>
Archaeology in Maryland: Excavating History
All-Day Tour
Fri., Jun. 23 at 8:00 AM

St.

Mary's City and St. Leonard on Maryland's Western Shore are locations that offer rich archaeological insights into the state's—and America's—past. Spend a day led by science and history communicator Steve Lonker exploring that history though excavations from early Native American sites, colonial settlements, 19th-century battle sites, and more recent finds.
Buy tickets>>