Hear from Award-Winning Author Tobias Wolff

Join master storyteller Tobias Wolff for our next Writers Series event on Monday, August 27 at 7pm for a fascinating conversation hosted by author and moderator Katherine Maxfield.
Known for his thoughtful approach to questions and his quick humor, Wolff will talk about his eventful life and will read an excerpt from a manuscript he is currently developing. Books from his catalogue will be available for purchase at the event.

Wolff is one of America's most revered writers. His short stories, novels, and memoirs have earned him three O. Henry short story prizes, the prestigious PEN/Faulkner Award for Fiction, a Guggenheim Fellowship, and an array of other awards. His critically-acclaimed short story collections include Our Story Begins, The Night in Question, and In the Garden of North American Martyrs. His memoir This Boy's Life details his difficult childhood growing up with a con man for a father. Another memoir, In Pharoah's Army, records his tour in Vietnam, highlighting the drudgery and disillusionment that many soldiers experience.
Gourmet Tastings at Food & Wine

For one afternoon only on Sunday, September 9 from 4-7:30pm, join us for our annual Food & Wine Classic as our historic Villa and gorgeous gardens will be transformed into a gourmet paradise.
Don't miss this sensational culinary event, where you'll sample savory and sweet fare from some of the most celebrated restaurants in the Bay Area, enjoy tastings from many of the region's finest wineries, and bid on exciting live and silent auction items featuring luxurious wine lots and unique experience packages.
Wondering who will be participating in 2018? Take a look below, then get your tickets today! (More participants will be added in the coming weeks; bookmark the page and check back regularly to see who else will be joining the party!)
| | |
| --- | --- |
| Cuisine Provided By: | Wines Provided By: |
| | |
Last Chance Classes: Flower Prints & Bonsai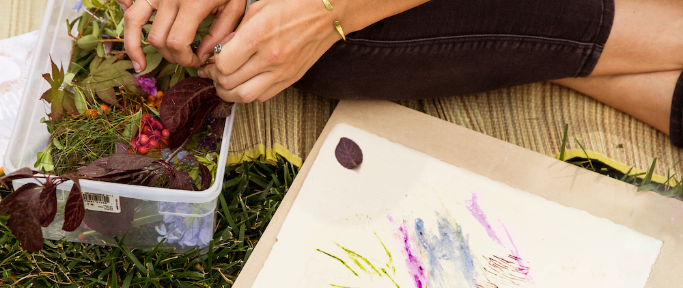 It's your last chance to register for two upcoming classes in our Montalvo Summer Nights series. Both classes are filling up, so don't wait! This Wednesday evening series is perfect for beginners and experts alike, and you will enjoy light refreshments and wine while you learn from expert instructors.

Get inspired by beautiful summer garden blooms with artist Dana Harel! The colors from flowers and plants turn into natural dyes when pressed; these can create vibrant lines and shapes on a page. You'll learn how combining this process with inking and other techniques offers many ways to compose beautiful artwork.

Learn how to start and care for your own bonsai plant in this hands-on workshop! You will be guided through all the steps, from plant choice and sourcing to container selection, plus caring for your plant at home, pruning, shaping, and watering. The history and tradition of bonsai will also be included as part of a complete learning experience.
Photo Credits: Ron Leckie / Bahara Emami / Linda A. Cicero, Stanford News Service / Trisha Leeper / Airyka Rockefeller