Hartford Stage's Sensory-Friendly Performance of A Christmas Carol Set for Saturday, December 2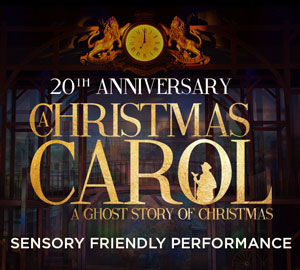 Hartford, CT, November 10, 2017 – Hartford Stage will host its fourth annual sensory-friendly performance of the beloved family holiday classic, A Christmas Carol – A Ghost Story of Christmas, on Saturday, December 2, at 2 p.m. Tickets for this performance are 50 percent off regular ticket prices, starting at $25, to make the theatre-going experience more accessible for families with autism or other sensory sensitivities.
United Technologies is the exclusive Presenting Sponsor for A Christmas Carol. Special thanks to Theatre Development Fund's Autism Theatre Initiative.
"We're thrilled to continue this holiday tradition for families in our community to experience the magic of live theatre together – including families of children with autism and anyone for whom the technical changes might make this beautiful story a bit less startling," said Jennifer Roberts, Director of Education at Hartford Stage. "Our goal is to make going to the theatre as a family possible for everyone."
Hartford Stage was the first theatre in Connecticut to offer this type of performance for the community. Sensory-friendly performances are designed to create a theatre experience that is welcoming to all families of children with autism or other disabilities that create sensory sensitivities. Since the inception of the sensory-friendly performance, Lew Michaels, Hartford Stage's Facilities and Operations Manager and Accessibility Coordinator, received a Kennedy Center LEAD® Award for Emerging Leaders in recognition of his advocacy efforts to increase accessibility to the arts for people with disabilities at the theatre.
"This programming has become a part of the overall Christmas Carol experience. It's just one more way we are trying to make live theatre accessible to everyone," Michaels explained. "It's great to see so many families feeling welcome and comfortable at our theatre through this vital accessibility program."
The sensory-friendly production of A Christmas Carol features several changes to help make the experience comforting and fun for those with sensory sensitivities. Overhead lights remain lit but dimmed, and audience members are encouraged to move around during the performance as needed. There are reductions in loud or jarring noises, flashing/strobe lights, and startling effects that are a normal part of the production. Sensory support tools such as blankets, stress balls and ear plugs are accessible for patrons, and a designated quiet area is available. Trained staff and volunteers offer assistance through the performance.
Janet Haley, co-founder of the Connecticut chapter of Autism Speaks and the program facilitator for Ready, Set, Go at the Squadron Line School in Simsbury, has volunteered for the Hartford Stage sensory-friendly performance of A Christmas Carol since its debut.
"The Hartford Stage sensory-friendly performance of A Christmas Carol provides an unparalleled experience that is welcoming, supportive, and inclusive in an accepting environment where individuals with sensory sensitivities and their families can share in the enjoyment of theatre together," Haley said.
Families can access free resource materials from the Hartford Stage website about the sensory-friendly production of A Christmas Carol, including a social story (a visual guide designed to detail the various social interactions, situations, and behaviors that occur during a visit to the theatre) and a comprehensive performance guide. These tools were designed to help individuals with sensory sensitivities prepare to enjoy the play without any fear or uncertainty.
A Christmas Carol is recommended for children ages 8 and older. To purchase tickets for the sensory-friendly production, call the Hartford Stage Box Office at 860-527-5151 or visit http://www.hartfordstage.org/sensory-friendly.
HARTFORD STAGE
Now in its 54th season, Hartford Stage's mission is to enlighten, entertain, and educate by creating theatrical works of the highest caliber that have a transformative impact on audiences, the community, and its field. Led by Artistic Director Darko Tresnjak and Managing Director Michael Stotts, Hartford Stage is renowned for producing innovative revivals of classics and provocative new plays and musicals – including over 70 world and American premieres – as well as offering a distinguished education program, which reaches approximately 20,000 students annually.
Since Tresnjak's appointment in 2011, Hartford Stage has presented the world premieres of the new musical Anastasia by Terrence McNally, Stephen Flaherty and Lynn Ahrens – currently on Broadway; Rear Window with Kevin Bacon; Reverberation by Matthew Lopez; Big Dance Theatre's Man in a Case with Mikhail Baryshnikov; Breath & Imagination by Daniel Beaty; A Gentleman's Guide to Love and Murder on Broadway, winner of four 2014 Tony Awards, including Best Musical and Best Direction of a Musical by Tresnjak; and Quiara Alegría Hudes' Water by the Spoonful, winner of the 2012 Pulitzer Prize for Drama.
Hartford Stage has earned many of the nation's most prestigious awards, including the 1989 Tony Award for Outstanding Regional Theatre. Other national honors include Outer Critics Circle, Drama Desk, OBIE, and New York Critics Circle awards. Hartford Stage has produced nationally renowned titles, including the New York transfers of Enchanted April; The Orphans' Home Cycle; Resurrection (later retitled Through the Night); The Carpetbagger's Children; and Tea at Five.
###