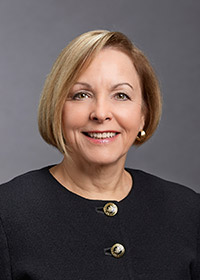 Hartford, CT, July 1, 2015 – Hartford Stage, under the leadership of Artistic Director Darko Tresnjak and Managing Director Michael Stotts, announced the election of Sue Ann Collins as Board President during its Annual Meeting in June. Ten newly-elected and rejoining board members were also confirmed.
"It is my great fortune to be able to work for, and alongside, such a dedicated and passionate group of individuals who care deeply about the work of Hartford Stage" said Mike Stotts, Managing Director. "I am especially pleased that Sue Collins will be leading us through the next two years, joining a stellar group of individuals from the Greater Hartford community who have served as President over our last 51 years."
Sue Ann Collins is the Senior Vice President and Chief Actuary at TIAA-CREF. Collins oversees all actuarial activities for Teachers Insurance and Annuity Association of America, a life insurance organization with $250 billion of assets. She has been with TIAA since 2013. She holds a Bachelor of the Arts in Mathematics and graduated Summa Cum Laude from Central Connecticut State University. Collins is very active in the Hartford community. In addition to this new appointment, Collins serves as a member of the Investment Committee for Hartford HealthCare and the Central Connecticut State University Development Board. Collins previously served as Hartford Stage Board Treasurer and Chair of the Finance Committee.
"It is humbling and exciting for me to become president of Hartford Stage at a time when we are engaged in performances on stage and work in our education programs that are of historical significance," Collins said. "I look forward to working with an enthusiastic group of Board members and the professional and passionate staff of Hartford Stage led by Artistic Director Darko Tresnjak and Managing Director Mike Stotts."
Collins succeeds Jill Adams, who served as Hartford Stage Board President for the past three years. Adams will now join the Past Presidents Council. Robert V. Lally, Founding Partner of Federman, Lally and Remis, LLC, was re-appointed Hartford Stage Board Vice President and David R. Jimenez, Partner at Jackson Lewis, continues to serve as Board Secretary. John L. Sennott, Jr., Senior Vice President and Chief Financial Officer of Alleghany Corporation, was newly-appointed as Board Treasurer.
Newly-elected members to the Hartford Stage Board of Directors are Sharon Jepson, Erin Keith, Amy Leppo Mandell, Dawn C. Morris, Joshua R. Newton, and Don C. Sikes.
Sharon Jepson has worked at Travelers, the Attorney General's Office, and the Connecticut Natural Gas Corporation for 22 years. Jepson and her husband, David, support museums, theatres, and schools in Connecticut.
Erin Keith currently works in interior design at Lisa Scheff Designs in Longmeadow, Massachusetts. She has been a volunteer at a number of charitable organizations in her hometown of Manchester. Keith is an active supporter of several arts and cultural organizations in downtown Hartford, where she currently resides.
Amy Leppo Mandell was born in New York City and grew up in Oceanside on Long Island's South Shore. She went to college at SUNY Geneseo, where she studied Education and Psychology while pursuing a career in academy and scholarly publishing.
Dawn C. Morris is Executive Vice President and Chief Marketing Officer of Webster Bank and Webster Financial Corporation. She joined Webster in 2014. Morris serves as board co-chair with Governor Dannel Malloy on the Governor's Prevention Partnership and on the boards of Girl Scouts of Eastern Massachusetts and Marketing EDGE.
Joshua R. Newton was appointed President of the University of Connecticut Foundation in September 2013. Previously, as Vice President for University Development at Emory University in Atlanta, he was a driving force behind a successful $1.7 billion fundraising campaign that ranks as the largest in the school's history. Newton currently serves as Secretary on the Association of Fundraising Professionals International Board. Newton holds the designation of Certified Fund Raising Executive and is a member of the Council for the Advancement and Support of Education.
Don C. Sikes is responsible for the Global Sourcing Office and the Information Technology Leadership Development, Internship and Early Career Programs at Travelers. He is originally from Mobile, Alabama, and now lives in Hartford.
Rejoining the Hartford Stage Governing Board Members after a hiatus on the Honorary Board are Michael D. Nicastro, Bruce Simons, Sherwood S. Willard, and Brooke Whittemore.
Michael D. Nicastro is the Senior Vice President & Chief Marketing Officer at Connecticut Online Computer Center. He serves on the board of Simsbury Bank & Trust, as well as the board of venture capital-backed Continuity Control – a New Haven-based financial and compliance technology firm. Nicastro is a native of Bristol, where he currently resides with his family.

Bruce Simons is a Principal at Figure Eight Properties. Simons is a former principal in the family-owned Simons Real Estate Group. He is the Board Chairperson of The Hartford Dispensary. He serves on the Board of Regents of the University of Hartford and is a member of the Physical Plant Committee. Simons also serves on the Board of Hebrew Health Care. He is the current Facilities Committee Chair for the Hartford Stage.
Sherwood S. Willard was the former General Counsel at Pirelli Tire. He now volunteers principally at Hartford Hospital and CHRIS. He is also a fact finder and arbitrator at the Superior Court in Hartford.
Brooke Whittemore has been an active participant with the Hartford Stage Board of Directors since 2006. In 2013, she co-chaired the 50th Anniversary gala: 1964. She lives in West Hartford with her family.