Hartford Stage to Host 14th Annual Community Night Performance of A Christmas Carol on November 30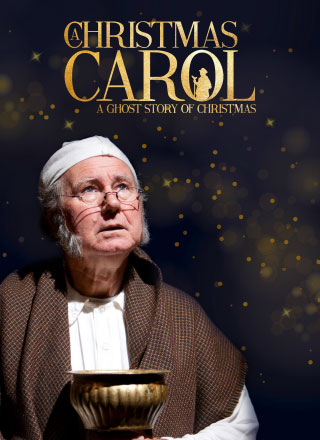 Hartford, CT, November 4, 2016 – Hartford Stage will host its annual Community Night Performance of A Christmas Carol – A Ghost Story of Christmas on Wednesday, November 30 at 7:30 pm. The performance will be attended by approximately 490 children and adults from 23 local community organizations.
Hartford Stage has held this free performance for the past 14 years, and it has grown into a favorite Hartford holiday tradition. The event is a joyous celebration – often introducing children and young adults to live theatre for the very first time. Making the evening more special, the audience is invited to meet and mingle with the cast of the play immediately following the performance; and each attendee is given an autographed book by Walter Wick as a gift. This year, it is the newly- published Can You See What I See Big Book of Fun.
"This special performance kicks off the holiday season for all of us at Hartford Stage," said Michael Stotts, Managing Director of Hartford Stage. "There is no better way to get into the holiday spirit than seeing this particular audience smile from ear to ear as they are exiting the theatre having marveled at the flying ghosts, been entertained by Bill Raymond's performance as Scrooge, and been moved by the classic story that most are experiencing for the first time."
Local organizations attending Hartford Stage's Community Night Performance include: Asian Studies Academy; Billings Forge Community Works; Boys and Girls Clubs of Hartford and Bristol; Bulkeley High School; Footlights Center for the Performing Arts; Global Communications Academy; Grace Academy; Handz-On; Kinsella Magnet School for the Performing Arts; Lincoln Middle School; Make-A-Wish Connecticut; My Sister's Place; Nutmeg Big Brother Big Sisters; OPMAD; Our Piece of the Pie; SAND Elementary School; Salvation Army; South Park Inn; True Colors; Village for Families and Children; YAZU Productions; and YWCA New Britain.
HARTFORD STAGE
Now in our 53rd year, Hartford Stage is under the leadership of Artistic Director Darko Tresnjak and Managing Director Michael Stotts. One of the nation's leading resident theatres, Hartford Stage is known for producing innovative revivals of classics and provocative new plays and musicals, including 73 world and American premieres, as well as offering a distinguished education program, which reaches approximately 20,000 students annually.
Since Tresnjak's appointment in 2011, the theatre has presented the world premieres of A Gentleman's Guide to Love and Murder on Broadway, winner of four 2014 Tony Awards, including Best Musical and Best Direction of a Musical by Tresnjak; Rear Window with Kevin Bacon; the new musical Anastasia by Terrence McNally, Stephen Flaherty and Lynn Ahrens; Quiara Alegría Hudes' Water by the Spoonful, winner of the 2012 Pulitzer Prize for Drama; Breath & Imagination by Daniel Beaty; Big Dance Theatre's Man in a Case with Mikhail Baryshnikov; and Reverberation by Matthew Lopez.
Hartford Stage has earned many of the nation's most prestigious awards, including the 1988 Tony Award for Outstanding Regional Theatre. Other national honors include Outer Critics Circle, Drama Desk, OBIE, and New York Critics Circle awards. Hartford Stage has produced nationally renowned titles, including the New York transfers of Enchanted April; The Orphans' Home Cycle; Resurrection (later retitled Through the Night); The Carpetbagger's Children; and Tea at Five.
The leading provider of theatre education programs in Connecticut, Hartford Stage's offerings include student matinees, in-school theatre residencies, teen performance opportunities, theatre classes for students (ages 3-18) and adults, afterschool programs and professional development courses.
# # #