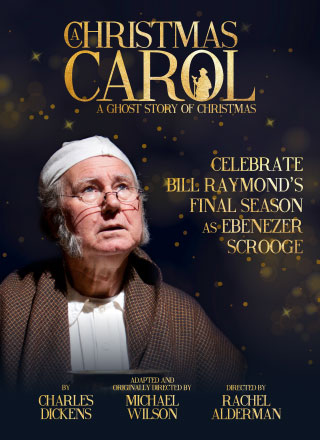 Hartford, CT, November 4, 2016 – Hartford Stage will host the third annual sensory-friendly performance of its holiday classic, A Christmas Carol – A Ghost Story of Christmas on Saturday, December 3 at 2 p.m.
Tickets for this performance are 50 percent off regular ticket prices, starting at $18.50, and are on sale now.
"This year will mark our third sensory-friendly performance of A Christmas Carol, and we're proud to continue this as a new holiday tradition," said Jennifer Roberts, Director of Education for Hartford Stage. "One major change this year is that our sensory-friendly performance is on a Saturday afternoon, which we hope will make it even more inviting, accessible and convenient for families."
Hartford Stage was the first theatre in Connecticut to offer this type of performance for the community. Sensory-friendly performances are designed to create a theatre experience that is welcoming to all families of children with autism or other disabilities that create sensory sensitivities.
United Technologies is the exclusive Presenting Sponsor for A Christmas Carol. Additional funding to support the sensory-friendly performance was provided by the Pryor Foundation. Hartford Stage also extends special thanks to Theatre Development Fund's Autism Theatre Initiative for serving as an advisor (www.tdf.org/autism).
The storyline and basic structure of A Christmas Carol will remain intact, but several important changes help make the experience comforting and fun for those with sensory sensitivities. Overhead lights will remain lit but dimmed, and audience members are encouraged to move around during the performance as needed. There will also be a reduction in loud or jarring noises, flashing/strobe lights, and startling effects that are part of the production. Sensory support tools such as blankets, stress balls and ear plugs are offered to patrons, and a designated quiet area will be available. Trained staff and volunteers will be on hand throughout the performance to offer assistance.
To help prepare for their Hartford Stage visit, families can access free resource materials including a social story (a visual guide designed to detail the various social interactions, situations, and behaviors that occur during a visit to the theatre) and a comprehensive performance guide on the Hartford Stage website. These tools will help individuals with sensory sensitivities prepare to enjoy the play without any fear or uncertainty.
To purchase tickets for the sensory-friendly performance, call the Hartford Stage Box Office at 860-527-5151 or order online at http://www.hartfordstage.org/sensory-friendly. The Hartford Stage production of A Christmas Carol is recommended for children ages 8 and older.