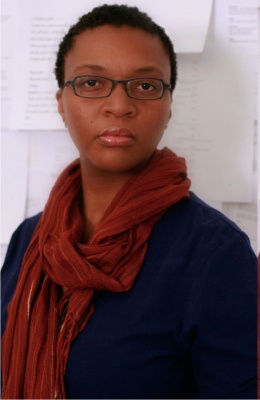 Hartford, CT, September 23, 2015 – Artistic Director Darko Tresnjak and Managing Director Michael Stotts announced playwright Christina Anderson as the 2015-16 Aetna New Voices Fellow at Hartford Stage.
American Theatre Magazine selected Anderson as one of the 15 up-and-coming artists "whose work will be transforming America's stages for decades to come." Anderson's plays have been included in both of the first two editions of The Kilroys' List – an annual industry survey of important new works by female and trans playwrights.
"The range of Christina's work, from pen/man/ship to Blacktop Sky to her recent The Ashes Under Gait City, is very impressive – whether set in the 19th Century or the present, her plays are always immediate and compelling. I'm delighted that she'll be joining us this season as our 2015-2016 Aetna New Voices Fellow here at Hartford Stage," said Associate Artistic Director Elizabeth Williamson.
Anderson's plays include The Ashes Under Gait City, Good Goods, Man in Love, Blacktop Sky, Hollow Roots, How to Catch Creation, and Drip. Her work has appeared at The Contemporary American Theatre Festival, Penumbra, Yale Rep, A.C.T., The Public Theatre, Crowded Fire, and other theatres across the country.
A season-long engagement, the Aetna New Voices Fellowship provides an artistic home for important playwrights of diversity and color to develop work and become involved in the ongoing life of Greater Hartford. The residency includes the commissioning of a new play and developmental readings and workshops, working with Hartford Stage's education department, and advancing community development.
"Arts organizations continue to play a role in creating stronger communities," said Floyd W. Green, III, Aetna's Vice President of Community Relations and Urban Marketing. "Through our long-time partnership with Hartford Stage and its award-winning New Voices Fellows program, we are pleased to showcase emerging talents in the field of playwriting, directing and performance."
"Organizations like Hartford Stage, and playwrights such as Christina Anderson, are helping to promote innovative thinking across the country," Green said. "As one of the 15 up-and-coming artists whose work will be transforming America's stages for decades to come, we are delighted that this selection strengthens our commitment to the arts where we live, work and play."
Marking its eleventh year as the sole funder of this essential program, Aetna builds healthier communities by promoting volunteerism, forming partnerships, and funding initiatives to improve the quality of life for its employees, members, customers and neighbors.
Kimber Lee (brownsville song (b-side for tray)) served as the 2014-2015 Aetna New Voices Fellow. Former notable Fellows include 2012-13 Fellow Matthew Lopez (Reverberation, Somewhere, The Whipping Man at Hartford Stage); 2007-08 Fellow Daniel Beaty (Breath and Imagination, Resurrection at Hartford Stage); and 2008-09 Fellow Quiara Alegría Hudes, who won the 2012 Pulitzer Prize for Drama for Water by the Spoonful, which premiered at Hartford Stage.
Anderson received a BA from Brown University and an MFA from the Yale School of Drama's Playwriting Program. She serves as an Assistant Professor of Playwriting at SUNY-Purchase College. Anderson has been recognized with two PoNY (Playwrights of New York) nominations, the Schwarzman Legacy Scholarship, two Susan Smith Blackburn nominations, the Lorraine Hansberry Award (American College Theatre Festival), and a Wasserstein Prize nomination. A 2011 Woursell Prize finalist (University of Vienna), Anderson has held the Lucille Lortel Fellowship at Brown University, the Van Lier Playwriting Fellowship with New Dramatists, and served as the 2011/12 Playwright-in-Residence at Magic Theatre (National New Play Network) and the 2011 National Playwrights' Conference Residency at the Eugene O'Neill Theatre.