Sean Pomposello Joins Hartford Stage as Director of Marketing and Communications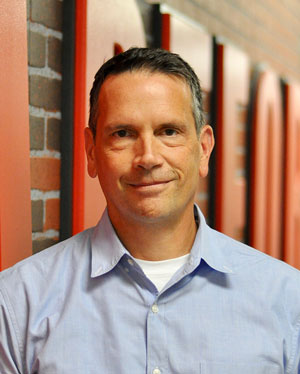 Hartford, CT, October 2, 2017 – After a nationwide search, the Tony Award-Winning Hartford Stage, under the leadership of Artistic Director Darko Tresnjak and Managing Director Michael Stotts, today announced that Sean Pomposello has been appointed Director of Marketing and Communications beginning October 2, 2017.
The nationwide search for Hartford Stage's Marketing and Communications Director was helmed by Tom O'Connor of Tom O'Connor Consulting in Beacon, New York. Pomposello will lead the theatre's marketing, communications and sales team in achieving the strategic objectives of the theatre, as well as producing content and campaigns to promote the work of the Stage locally and nationally.
"Darko and I are energized by Sean's creative background and ideas, the experience he has had in large-scale marketing and branding, and his demonstrated ability to strategize and effectively lead a team to increased revenues and brand recognition," said Michael Stotts. "We look forward to Sean joining the Hartford Stage family."
Pomposello previously held the position of Director of Editorial Strategy for A & E Networks in New York City from 2014-2017, where he was responsible for overseeing the network's brand; providing creative oversight for on-air promotions, off-channel television and digital/social campaigns and internal marketing communications; and managing episodic promotions for all scripted and unscripted series, original movies, and specials.
Pomposello also served as Creative Director and Writer for Home Box Office (HBO) in New York from 2001 to 2008. In this role he supervised all HBO Video creative efforts in support of domestic and international releases including DVD packaging, menu design, enhanced content production, announce kits, collateral materials, trade and consumer advertising campaigns for some of the network's signature programming which included The Sopranos, Sex and the City, Six Feet Under, The Wire and Curb your Enthusiasm.
In addition to his work at A & E and HBO, Pomposello served as Director of Creative Services for Optimum Cablevision Systems Corporation in Bethpage, New York, where he was responsible for the management of the internal creative resources to develop materials and campaigns to drive the company's television, phone and internet brand, and as Creative Director at Serino Coyne, one of the country's most influential advertising agencies dedicated to Broadway and other live entertainment, where he supervised the marketing and advertising efforts in support of such shows as Wicked, God of Carnage, Mamma Mia! and Next to Normal.
Pomposello has also worked as a marketing consultant for the Westport Country Playhouse, Second Stage Theater and Disney on Tour.
Pomposello said, "I am tremendously excited to be heading up marketing at Hartford Stage – an organization that has come to represent the very best in regional theatre. It's truly an honor to call this place home."
The Bronx-born Pomposello is also an accomplished playwright, screenwriter, and published street photographer. Some of his plays include The Woodpusher, Bitch, House Afire, and Barbicide. Pomposello has been recognized by the Eugene O'Neill Theater Center's National Playwrights Conference, the Academy of Arts Motion Picture Arts' Nicholl Fellowship, and the Monterey County Film Commission, and has had his works staged in theatres around New York and across the country. He has received numerous awards for his achievements in graphic design, promotional advertising, and DVD packaging.
HARTFORD STAGE
Now in its 54th season, Hartford Stage's mission is to enlighten, entertain, and educate by creating theatrical works of the highest caliber that have a transformative impact on audiences, the community, and its field. Led by Artistic Director Darko Tresnjak and Managing Director Michael Stotts, Hartford Stage is renowned for producing innovative revivals of classics and provocative new plays and musicals – including over 70 world and American premieres – as well as offering a distinguished education program, which reaches approximately 20,000 students annually.
Since Tresnjak's appointment in 2011, Hartford Stage has presented the world premieres of the new musical Anastasia by Terrence McNally, Stephen Flaherty and Lynn Ahrens – currently on Broadway; Rear Window with Kevin Bacon; Reverberation by Matthew Lopez; Big Dance Theatre's Man in a Case with Mikhail Baryshnikov; Breath & Imagination by Daniel Beaty; A Gentleman's Guide to Love and Murder on Broadway, winner of four 2014 Tony Awards, including Best Musical and Best Direction of a Musical by Tresnjak; and Quiara Alegría Hudes' Water by the Spoonful, winner of the 2012 Pulitzer Prize for Drama.
Hartford Stage has earned many of the nation's most prestigious awards, including the 1989 Tony Award for Outstanding Regional Theatre. Other national honors include Outer Critics Circle, Drama Desk, OBIE, and New York Critics Circle awards. Hartford Stage has produced nationally renowned titles, including the New York transfers of Enchanted April; The Orphans' Home Cycle; Resurrection (later retitled Through the Night); The Carpetbagger's Children; and Tea at Five.
The leading provider of theatre education programs in Connecticut, Hartford Stage's offerings include student matinees, in-school theatre residencies, teen performance opportunities, theatre classes for students (ages 3-18) and adults, afterschool programs and professional development courses.

###