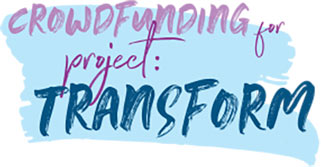 Hartford, CT, April 4, 2019 – Stage One, the young professional arm of the Hartford Stage Board of Trustees, has launched a crowdfunding campaign to revitalize Project: Transform, an innovative Education @ Hartford Stage playwriting and performance program for Connecticut high school students celebrating diversity and acceptance.
The crowdfunding campaign, which will be hosted on the Hartford Stage website, runs Monday, April 8, through Friday, April 26. To achieve its fundraising goal of $20,000, donations will be matched through a corporate gift from Locke Lord LLP. The funds raised will enable Project: Transform to take place over eight weekends this fall and cover costs for Education @ Hartford Stage teaching staff, guest artists, travel, food, supplies, space rental and other related expenses.
"Project: Transform is a program that really empowers young people to speak up about the change they want to see in their worlds, communities, and in their own lives. Not only does it create stronger, more confident writers and performers, but it also creates more engaged citizens," said Jennifer Roberts, Director of Education @ Hartford Stage. "We draw students from all over the state, from different towns and backgrounds. In many cases, these are students who would not have the chance to meet each other if not for the program. The final performance is always so rich because of the diversity of ideas and perspectives represented by the group."
Project: Transform brings together 20 high school students from different backgrounds – including race, gender, ethnicity, sexual orientation and social class – to create and perform a devised theatre piece exploring the transformation of minds, neighborhoods and communities. The program is free and open to all Connecticut high school students, who are selected to participate through an application and interview process. Students in Project: Transform work collectively under the guidance of Education @ Hartford Stage teaching staff and acclaimed guest artists, using poetry, theatre, music and dance to write, improvise, rehearse and share their collaborative piece in a public performance open to families, friends and the community.
Past Project: Transform performance pieces have focused on the transformation of communities over time; change through past, present and future; the biggest challenges facing teenagers and what to do about them; and transforming schools into safer and more inclusive environments. Guest artists who have worked with Project: Transform students include writer/actor/author/ LGBTQ activist James Lecesne; director Saheem Ali; playwrights Phillip Howze, Matthew Lopez, Janine Nabers and Will Power; and composer/sound designer Justin Ellington.
The Project: Transform crowdfunding campaign is spearheaded by Stage One Co-Chairs John Doran and Rebekah Humphrey, as well as member Brendan Howes. Stage One was created three years ago as an initiative to engage young professionals in the Greater Hartford area who are passionate about Hartford Stage and who are passionate about Hartford Stage and who can be leaders and advocates for the theatre in their communities and peer groups. The group of 10 junior board members collectively supports the mission of Hartford Stage while also cultivating the next generation of theatregoers.
"I am excited to be part of the Stage One team spearheading Hartford Stage's first crowdfunding campaign," Humphrey said. "We think it is a way to engage the next generation of donors and support a program which encourages high school students from diverse backgrounds to develop and produce a play on the change they want to see in their community."
Project: Transform began in 2010 with funds from the State Department of Education as part of the Interdistrict Cooperative Grant (IDCG) program, and Hartford Stage ran the program for seven years. In 2017, the funds allocated to the IDCG program by the state were cut in half, and Hartford Stage was not awarded a grant to continue Project: Transform.
"It is our hope that this campaign revitalizes a very successful program, brings new and diverse donors to Hartford Stage, and shows the state the value the arts can have on community," Howes said.
Doran added, "Our goal is to show that the community not only supports the arts, but also values the next generation's ideas on improving where we live. Every donation, no matter what amount, matters."
For more information on the Project: Transform crowdfunding campaign, visit https://www.hartfordstage.org/crowdfunding/.