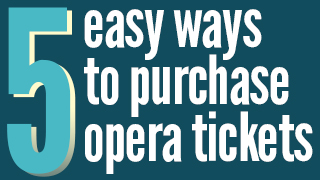 Starting Monday, May 2, the Edmonton Opera box office will be at a new location! We are moving to our north end facility, which houses rehearsals and administration, at 15230-128 Ave.
Hours: 9am–5pm, Monday–Friday, closed on weekends and statutory holidays. Parking is free!
Here are 5 easy ways to purchase tickets:
1. Online at edmontonopera.com
2. By phone: 780.429.1000
3. In person at our new location: 15230 128 Ave.
4. New mobile concierge service: Call 780.429.1000 and our box office staff will arrange to meet you at a convenient location!
5. New pop-up box office at the Jubilee Auditorium: starting the Monday before opening night of each production, you can also buy tickets at the Jube!
Please note: The box office will be closed this Friday, April 30 while we move!