Hartford Stage Gifted with Original 1939 Marshall Field & Company Charles Dickens Christmas Carol Storefront Window Display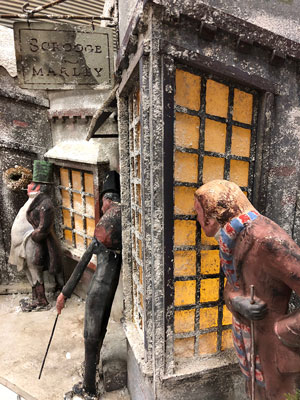 Hartford, CT, November 15, 2017 – The nostalgic art of holiday "window trimming" will soon be on display at Hartford Stage through a unique and rare gift. Coventry shop owners Bill and Joy Kelleher recently presented Hartford Stage with an original 1939 storefront window display from Marshall Field & Company depicting an outdoor scene from Charles Dickens' A Christmas Carol.
The Dickensian vignette, in two separate intricately-detailed panels, has been repaired and refurbished by Hartford Stage's Props and Electrical teams. It will be on public display in the front windows of Hartford Stage from November 22 thru December 31, which includes the entire run of A Christmas Carol – A Ghost Story of Christmas.
"We are grateful to the Kellehers for this truly unique gift," said Michael Stotts, Managing Director of Hartford Stage. "Our production of A Christmas Carol is very Dickensian in its design and aesthetic (which is not the case with all productions of A Christmas Carol!) and to have this display at the entrance to our theatre will appropriately set the mood for our audiences before they are in their seats. It will also be an added attraction for downtown employees, residents and visitors who pass by theatre."
The Chicago-based Marshall Field & Company was once the largest wholesale and retail dry goods business in the world. Now a National Historic Landmark, the iconic Chicago location is still the second largest store in the world and has been owned by the Macy's Corporation since 2005.
The Dickens window display was rescued from imminent disposal by a Chicago resident to display in her home. Ten years later, she donated the display to the Yesteryears (also known as the "Old Doll Museum") in Sandwich, Massachusetts. Bill and Joy Kelleher, owners of Special Joys Doll Shop & Toy Museum in Coventry, purchased the display from the owners when the Massachusetts museum closed for business in the late 1980s.
The Kellehers, both avid Dickens fans who attended Hartford Stage's production of A Christmas Carol several years ago, immediately fell in love with the display, which many have admired through the years in both their home and shop. When the couple recently decided to downsize their home, they agreed it was time to part with the cherished keepsake.
The Kellehers are excited that the Dickens display has found a new home at Hartford Stage.
"It's very important to preserve the past," Joy Kelleher said. "It's wonderful to know that other people will be able to enjoy it. It's found a good home – and that's grand."
HARTFORD STAGE
Now in its 54th season, Hartford Stage's mission is to enlighten, entertain, and educate by creating theatrical works of the highest caliber that have a transformative impact on audiences, the community, and its field. Led by Artistic Director Darko Tresnjak and Managing Director Michael Stotts, Hartford Stage is renowned for producing innovative revivals of classics and provocative new plays and musicals – including over 70 world and American premieres – as well as offering a distinguished education program, which reaches approximately 20,000 students annually.
Since Tresnjak's appointment in 2011, Hartford Stage has presented the world premieres of the new musical Anastasia by Terrence McNally, Stephen Flaherty and Lynn Ahrens – currently on Broadway; Rear Window with Kevin Bacon; Reverberation by Matthew Lopez; Big Dance Theatre's Man in a Case with Mikhail Baryshnikov; Breath & Imagination by Daniel Beaty; A Gentleman's Guide to Love and Murder on Broadway, winner of four 2014 Tony Awards, including Best Musical and Best Direction of a Musical by Tresnjak; and Quiara Alegría Hudes' Water by the Spoonful, winner of the 2012 Pulitzer Prize for Drama.
Hartford Stage has earned many of the nation's most prestigious awards, including the 1989 Tony Award for Outstanding Regional Theatre. Other national honors include Outer Critics Circle, Drama Desk, OBIE, and New York Critics Circle awards. Hartford Stage has produced nationally renowned titles, including the New York transfers of Enchanted April; The Orphans' Home Cycle; Resurrection (later retitled Through the Night); The Carpetbagger's Children; and Tea at Five.
###